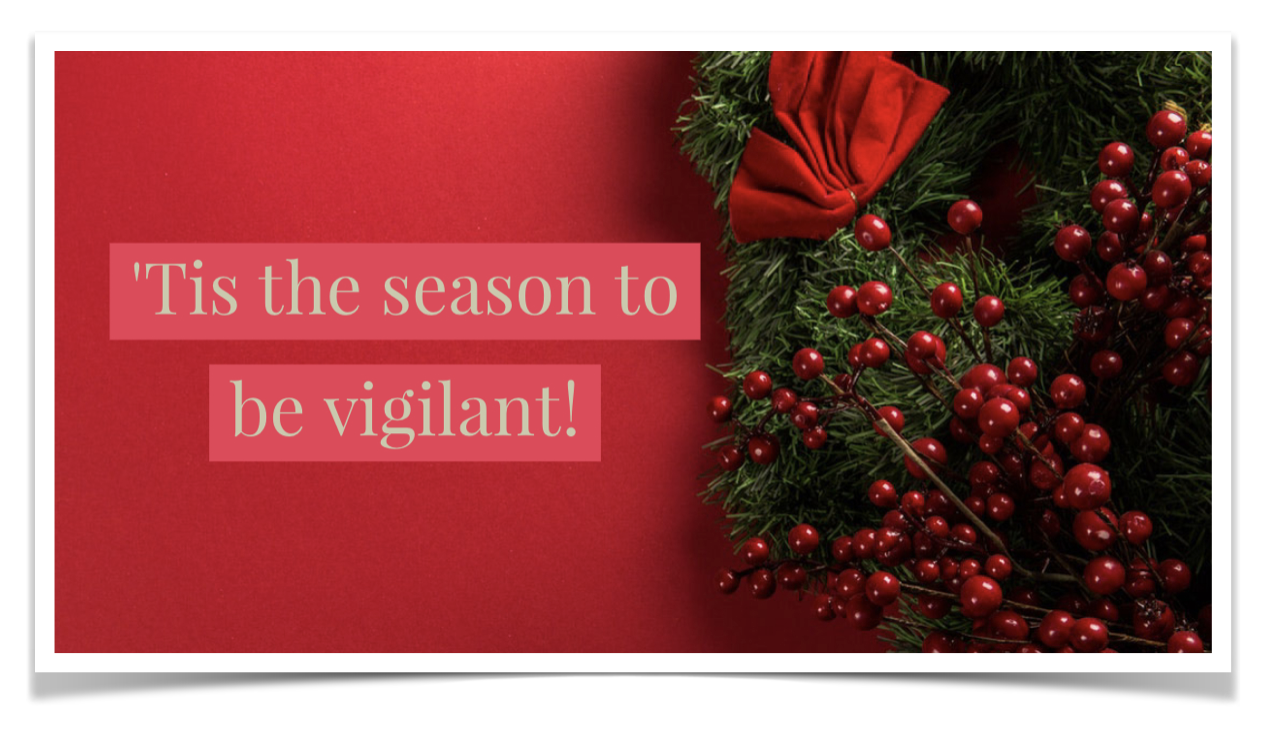 Everyone is looking forward to the Holiday season, the food, the festivities and reconnecting with family and friends. Cybersecurity threats can put a damper on this season which can be avoided if you are aware and vigilant. Did you know that in 2017 holiday ecards accounted for nearly 25 percent of all phishing scenarios that worked (Source: Cofense). Holiday ecards are just one of the potential threats. With awareness and vigilance, you can avoid becoming a statistic for scam victims.
I personally am more careful during this time and take the following preventive measures.
Do not fall for impersonation emails. – if it pretends to be from someone you know, do not fall for it – check the email address before clicking on it.
Vishing you the best!  During holiday season there might be increase in vishing calls. Some examples  include calls mentioning you have won a huge amount in gift cards, and then requests of credit card information for shipping cost etc. Verify the source and be careful when giving out financial information. Also, if you get a phone call from someone claiming to be from the IRS (The U.S. Internal Revenue Service), call the IRS at 1.800.829.1040 to verify. Please note IRS does not ask for payment over the phone.
Holiday travel deals can leave you stranded! Look out for unrealistically low prices or odd payments.
Be careful when releasing emails from your Junk folder. 
Strangers are not sending you free gift cards. If you get an unexpected email with a link to your free gift card, do not click that link! 
Strangers are also not sending you holiday greetings. Received an e-greeting card you were not expecting? Do not click the link unless you first make sure it is safe.
Got a new smart device at home? Did you know that cyber criminals can access your devices and use them to hack into other connected devices, steal your private data, stop your device from working until a ransom is paid, or worse? 
Keep your "personal" information safe! During Holidays hackers put in that extra effort using specialized programs that work tirelessly to guess your password. Use a unique and strong password and multi-factor authentication on your social media and email accounts. Also use a unique and strong password and auto update on your home Wi-Fi router.
Do not forget to share this information with people around you. And remember when in doubt, double check.
Wishing you a very safe Holiday season.  Any questions or topics you'd like me to cover in my next blog post? Feel free to leave a comment or send me an email.